Mold Removal Baton Rouge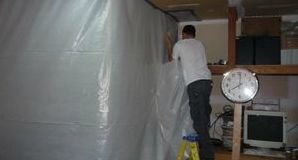 Mold can begin growing in your home or business if it finds favorable conditions. Mold requires very little to thrive. High humidity, leaks from pipes, and flooding from storms can all give mold the opportunity it needs to colonize your home. Mold can spread quickly in just two days if it is left untreated, leading to serious problems for commercial and residential property owners.
Fortunately, you can get help with mold removal any time of the day or night. 911 Restoration of Baton Rouge can be reached 24/7. Our technicians take your mold removal needs seriously and will hurry to reach property owners in Baton Rouge within 45 minutes of a call.
We offer free visual mold inspections for property owners only, allowing you to find out immediately what to expect from the mold removal process. Our technicians are IICRC certified to carry out mold remediation, so you can be confident that your mold problem will be addressed with aggressive and effective strategies.
911 Restoration of Baton Rouge attacks mold growth head on, with the use of specialized equipment designed to destroy mold wherever it is hiding. You can count on us to provide you with the timely help you need to take care of mold removal for any commercial or residential property in Baton Rouge, Denham Springs, Prairieville, and surrounding areas.
Water Damage Restoration and Mold Growth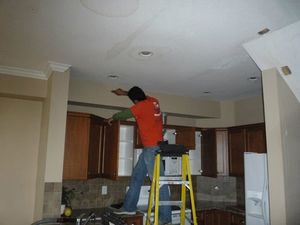 Your property is especially at risk for mold growth after suffering from water damage. Business or house flooding can have serious repercussions, even if your property does not suffer from a tremendous amount of excess water. Taking care of water damage restoration quickly lowers the odds that your property will later require mold removal.
911 Restoration of Baton Rouge is a full-service water damage restoration company. Our technicians are armed with professional-grade fans and dehumidifiers that can take care of water removal quickly. We use cutting-edge scanners to detect moisture throughout your property, ensuring that mold does not have anywhere to thrive.
Water damage restoration also involves repairing damage to your property once water removal has been completed. We can put your property back together after a water damage emergency. Our team is trained to fix drywall, floors, cabinets, ceilings, and more. 911 Restoration of Baton Rouge can handle carpet drying, crawl space clean up, and even a sewage backup.
Getting the water damage restoration process started as soon as you notice an issue will save you time. You can get help handling water damage restoration for problems caused by frozen pipes, ice dams, storms, leaks, and more. Let skilled water damage restoration specialists get to work for you right away, protecting your property from further damage.
We Understand Your Mold Cleanup Needs
Mold removal can be complicated by the fact that mold grows so quickly and often flourishes in areas that are hard to reach through traditional means. The microscopic spores produced by mature mold can spread quickly through:
       Air Conditioning Systems

       Your Clothing

       Pet Fur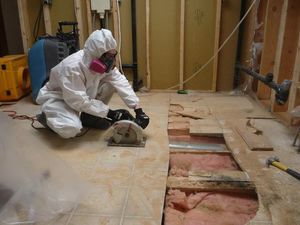 In order to handle mold removal, we will isolate the areas of your property impacted by the fungus. Working to prevent the spread of mold will make the mold removal process easier. Mold cleanup will also involve ensuring that the area where the mold is growing is completely dried and that any leaks are resolved so that moisture cannot return to the area.
Highly Skilled Restoration Technicians
Our technicians are licensed, bonded, and insured to use air filtration equipment while completing mold cleanup procedures. Keeping the air clean allows you to breathe without fear of health hazards from mold spores. You can rely on us to remove both mold and materials in your house that have become infested with mold growth.
911 Restoration of Baton Rouge has experience taking care of mold decontamination with professional grade cleaners and specially designed chemicals. Once your property is completely clean and decontaminated, we can restore any damage caused by the mold.
You can even rely on 911 Restoration of Baton Rouge to remove any odors left behind by the mold infestation. It's important that you react to a mold problem quickly. Mold will continue to grow and spread once you spot it. Let us take care of complete mold removal to return your property to the perfect condition you deserve.
 Let our IICRC-certified experts provide you with the dedicated services you need to clean up any mold infestation.
Serving the communities of Geismar, Prairieville, Walker, Zachary and surrounding areas.