Sewage Backup in Baton Rouge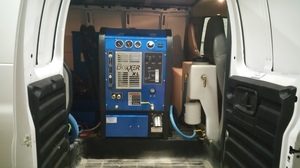 Sewage backup is any property owner's worst nightmare. Unfortunately, home and business owners in Baton Rouge, Iberville Parish, and the surrounding area are at an even higher risk of sewage water damage. In addition to experiencing the run-of-the-mill clogs that create hazardous backups, local properties are also at risk of sewage backups due to flooding from heavy rains. The wet, tropical climate of Baton Rouge brings more than the threat of water damage. It brings the threat of toxic black water.
Fortunately, Baton Rouge also has the relief of compassionate, expert sewage cleanup professionals. The specialists at 911 Restoration are all IICRC certified and fully trained in water damage restoration, from cleanup to sanitation to repair. They don't just get rid of the problem; they completely restore your property, leaving it better than new.
Get Easy Fast Assistance
You can reach a specialist at 911 Restoration of Baton Rouge any time, day or night, 24/7/365. Our friendly staff is always on call, because they know sewage contamination is an emergency. The longer gray or black water is left lingering on your property, the greater the risks to your health and the integrity of your home or business. This is also why sewage cleanup staff is guaranteed to be at your door within 45 minutes of your call.
In addition to being compassionate, responsive, and knowledgeable, the 911 Restoration team is dedicated to making your recovery truly complete…and as painless as possible. Even after the area has been fully dried and sanitize, your sewage water cleanup team inspects for resulting mold and promptly removes any colonies they find. They even walk you through the insurance process, helping you understand exactly what your provider covers. They file your claim for you and bill your provider directly.
A sewage backup can make your property feel like a hazard zone. The staff at 911 Restoration will turn your home or business back into a welcoming refuge, and they can do it faster than you think. Call us today and let our water cleanup experts show you what they can do.
Hazardous Toilet Water Damage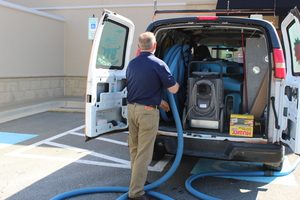 A sewage backup can be every bit as toxic as it smells. There are different levels of risk, depending on the type of backup you're dealing with. A minor toilet overflow is considered gray water if it contains only urine. An incident like this requires immediate water cleanup. However, when it comes to toilet water damage, your worst case scenario is black water. This is defined as water containing feces or water from backed up sewer lines.
Black water can contaminate your home or business with viruses and bacteria that pose a threat to your health and that of your family or pets. Sewage water may contain hazardous strains such as salmonella or E. coli.
These risks are why it is so crucial to contact a IICRC certified sewage cleanup company right away. Ideally, select a crew like 911 Restoration. Our specialists treat your sewage water damage like the emergency it is. They waste no time in answering your call, arriving at the scene, and eliminating all threats to your property and health.
When you're in the midst of a sewage backup crisis, it can be hard to imagine your property will ever feel safe and healthy again. We promise you: it can. Contact us now and let 911 Restoration give you a Fresh Start.
Your Certified Water Cleanup Company
Sewage restoration is about more than drying out and sanitizing your property. Sewage water damage can have devastating effects on the structures of your home or business. Before declaring their work complete, the specialists at 911 Restoration take great care to make sure they've minimized potential damage, repaired all destroyed structures, and removed any resulting mold.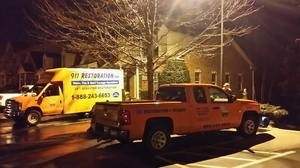 The sewage restoration staff communicate with you clearly from the very beginning, starting with a free visual inspection for property owners. Once they assess the damage, they pack out and store any belongings at risk of damage. They remove the sewage, dry and dehumidify the area, and tear out and replace any permanently damaged structures. They follow up with mold inspection and sampling, even taking samples of any discovered infestation to a third-party lab for testing before they begin mold decontamination.
Throughout the entire process, technicians keep you fully informed. You know the extent of your damage, what steps need to be taken to restore your property, and which sewage restoration services are covered by your insurance.
The staff of 911 Restoration of Baton Rouge sees you as more than a customer. You are also a neighbor. Your peace of mind is our first priority, from your first call to our final goodbye.
Expert sewage cleanup technicians are standing by to take your call. Contact our IICRC-certified experts today for the total relief of a Fresh Start.
Serving the communities of Baker, Baton Rouge, Denham Springs, Gonzales, Greenwell Springs, Iberville Parish, Prairieville, Pride, Walker, Zachary and surrounding areas.